16 December 2022
How do you imagine the future? Perhaps you think of the future we might be heading towards. Or perhaps you think of the future that you would like to see. This type of future may, for example, involve a world with fewer conflicts and less violence, where there are fewer illicit arms flows and less gendered violence, less poverty, less hunger, and less inequality, and where action is taken to combat climate change while also allowing for responsible consumption and production. But the question is, how do we achieve the type of future that we would like to see?
Exploring the future of international security
The world is currently experiencing profound social, economic and political transformations enabled by several drivers. New risks and opportunities for global peace and security abound: unprecedented technological developments driving the digital transformation of societies, worsening of the climate crisis, renewed geo-political tensions, polarisation of the global order, increased strategic ambiguity, instability with great power competition, and a resurgence of threats and behaviours long consigned to the past.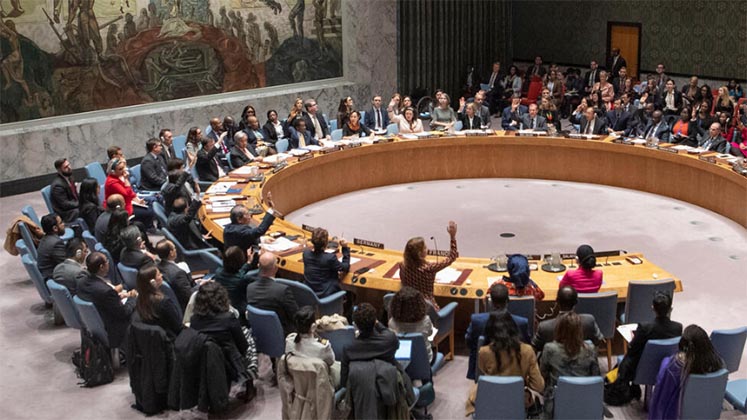 A meeting of the UN Security Council in New York (UN Photo/Eskinder Debebe)
It is within this context that the United Nations Secretary-General released his latest strategy, Our Common Agenda, to help provide a new vision for the world. The Agenda notably highlights the importance of futures and foresight activities in supporting the work of the United Nations. This approach has yet to permeate multilateral discussions on international security, disarmament, and arms-control affairs. While the aim of existing mechanisms is to address long-term goals, such processes currently struggle to offer solutions that can address future threats. For example, the Tenth Review Conference of the Parties to the Non-Proliferation Treaty, which took place in 2022, represents the second consecutive occasion on which the Conference has ended without a consensus outcome. Meanwhile, the Conference on Disarmament, which is the only permanent multilateral disarmament treaty negotiating body, has not been able to make any progress since the mid-1990s.
In order to provide a more future-focused approach to international security, corresponding to the goals of the Agenda and going beyond the immediate challenges facing multilateralism, the United Nations Institute for Disarmament Research is launching a new study. This study will explore the different types of futures that could emerge by the time the United Nations turns 100 in 2045, analysing what these possible futures would mean for international security and for the UN itself, with a particular focus on disarmament and threats to peace.
Can we feasibly explore what the future holds?
The future is and will always remain unpredictable. This is true in areas where quantitative data is used to prepare forecasts, as for the weather or the stock market, and even more so when trying to assess qualitative data, as on the future of geopolitics or human behaviour. Not only are we unable to precisely know how different issues will influence and interact with each other, there are also significant future events that are highly unpredictable, often referred to as "black swans". Therefore, the aim is not to try to predict the future but to become more prepared to deal with upcoming unpredictability and to increase our resilience in the face of it.
Futures and foresight methods can help us to understand possible scenarios resulting from climate change (UN Photo/Mark Garten)
Futures and foresight methods are a set of tools which can be used to enable individuals and groups to think about the future in a structured way and to help manage uncertainty. These methods can be used to help decisionmakers with their preparedness, reinforcing their ability to consider the future in all of its complexity and thus create plans and policies with these factors in mind.
Using futures and foresight as a way to drive positive change and solve global issues is not a new phenomenon. Indeed, foresight and futures have already been employed within the United Nations: for example, the United Nations Development Programme (UNDP) has developed a manual intended for stakeholders in developing countries to demonstrate how foresight can help to implement the Sustainable Development Goals.
One such futures and foresight method is the use of future scenarios, which aims to identify possible or probable futures which may come to pass. Interestingly, this method retains a level of uncertainty on what particular future could unfold, using this uncertainty to highlight a certain number of possibilities. These scenarios are created following a structured approach, with a range of experts engaged in the process, in order to develop logically coherent future scenarios. Beyond the creation of these scenarios themselves, the benefit of this method lies in the use of such scenarios to stimulate discussion about the future.
What will this study help to achieve?
By developing such future scenarios through its new study, UNIDIR aims to help advance discussions regarding policy actions that are needed now to address potential future issues and map a pathway towards a more peaceful, more secure future. This study also aims to engender a more future-focused mindset within the disarmament community and ongoing processes within the United Nations. This includes engaging decisionmakers in thinking about these issues in a new light, whether in multilateral efforts to deal with new and emerging technologies or in those focused on more traditional types of weapons.
The findings of this study will support States and the wider international community in preparing for the United Nations Summit for the Future in 2024, as well as contributing to UN-wide efforts to offer States new tools and new ways to deal with today's global challenges.
---
Sarah Grand-Clément is a Researcher in both the Security and Technology Programme and the Conventional Arms and Ammunition Programme at UNIDIR. Giacomo Persi Paoli is Programme Head of the Security and Technology Programme. Giacomo and Sarah are co-leads of UNIDIR's new future-focused study.