From the Iran Nuclear Deal to a Middle East Zone? Lessons from the JCPOA for the ME WMDFZ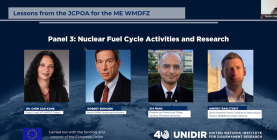 This event, organized by the United Nations Institute for Disarmament Research (UNIDIR) as part of its Middle East Weapons of Mass Destruction Free Zone (ME WMDFZ) Project, will discuss lessons from the Joint Comprehensive Plan of Action (JCPOA) relevant to the ME WMDFZ and related regional security issues. The JCPOA's unique negotiations process, provisions, and implementation created an important set of tools that could provide valuable insights and lessons for a ME WMDFZ. Understanding these tools in a regional context based on the JCPOA experience could provide ME WMDFZ negotiators and researchers important additional tools, ideas, and lessons learned.
During the event, six authors will discuss commissioned essays followed by a discussion. Paper topics include the Iran nuclear deal's negotiating process, structure and format; JCPOA governance (Joint Commission and dispute resolution); nuclear cooperation; nuclear fuel cycle activities and research; safeguards and verification; and compliance and enforcement.
SPEAKERS:
Chen Zak – Lead, ME WMDFZ Project, UNIDIR

Farzan Sabet – Researcher, ME WMDFZ Project, UNIDIR

Jarrett Blanc – Senior Fellow, Carnegie Endowment

Robert Einhorn – Senior Fellow, Brookings Institution

Dina Esfandiary – Fellow, The Century Foundation

Anton Khlopkov – Founder and Director, Center for Energy and Security Studies

Gregoire Mallard – Professor, The Graduate Institute, Geneva

Andreas Persbo – Research Director, European Leadership Network
WHEN & WHERE:
27 October, 15h00-17h30 CET, Online
28 October, 15h00-17h30 CET, Online
29 October, 15h00-17h30 CET, Online