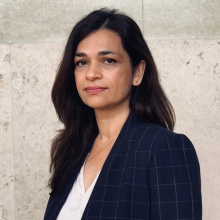 Team Lead, Finance, Budget and Administration
khan16@un.org
Maliha Khan
Maliha leads the UNIDIR Administrative Support Team which covers budget and finance, human resources and procurement.
Prior to joining UNIDIR, Maliha served as Finance and Budget Officer with the newly created United Nations Resident Coordinator (RC) System based in New York where she helped establish regular financial reports and consistent budgeting process across all RC offices. Previously, Maliha served with the Budget and Finance Section of the United Nations Office for the Coordination of Humanitarian Affairs (OCHA) in both Geneva and New York, including administrative support to OCHA's field offices in the Asia Pacific and Middle East and North Africa regions. Maliha has an MBA from the Institute of Business Administration, University of Karachi, and a Chartered Professional Accountant (CPA) designation from CPA Ontario, Canada.
Maliha's areas of expertise include management, budget and finance.