The number of violent conflicts worldwide has tripled since 2001. Almost half of all conflicts that we thought had been peacefully resolved within the last 30 years recurred, with nearly 20% recurring three or more times. Furthermore, eight out of every ten dollars of humanitarian funding is accounted for by armed conflicts. Conflict prevention is not only fundamental to the UN's mandate to maintain international peace and security, but it is cost-effective and life-saving.
What to do about the arms in armed conflict?
Arms-related risks to inform conflict prevention:
• types of conventional arms and ammunition available
• changes in conflict intensity
• armed actors and their levels of cohesion
• types and nature of armed incidents
Without arms and ammunition there can be no armed conflict. Former UN Secretary-General Kofi Annan highlighted that measures to prevent the misuse and illicit transfer of conventional arms and ammunition, and to address the root causes of their demand, would greatly contribute to armed conflict prevention. The foundation for preventing or managing conflict begins with an analysis of the current context, often taking the form of a conflict analysis to identify the direct and indirect causes of instability. Yet despite their critical role in sparking, facilitating, and sustaining armed conflict, arms-related risks and impacts appear to be the least well understood elements in existing UN conflict analysis tools. This means that conflict analysis and prevention efforts can miss the red flags and warnings that could help the UN to act before the outbreak of armed conflict. Thus, integrating arms control into UN conflict prevention efforts is underexplored and underutilized.
The link between 'arms' and 'armed conflict' must be recognized to ensure conflict prevention strategies are grounded in an understanding of the root causes of a conflict. By better integrating conventional arms control into conflict prevention, the UN will come closer to achieving its foundational objective: to save succeeding generations from the scourge of war. So what is being done today to achieve this?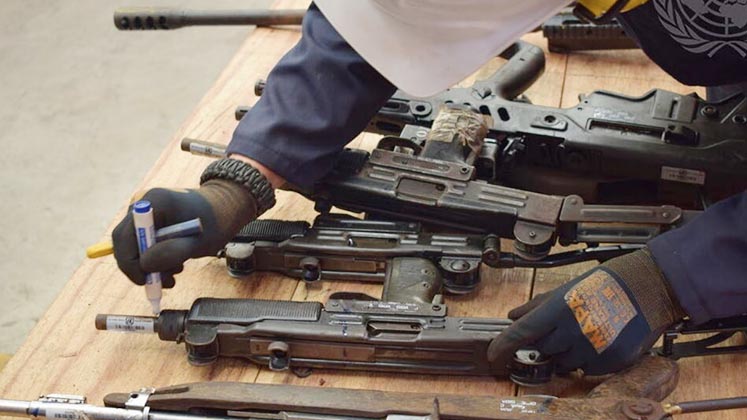 Applying an arms-control lens to conflict prevention: UNIDIR's contribution
The immense challenge to sustain peace in fragile and conflict-affected settings demands collaboration between actors tasked with conflict prevention and conflict analysis. UNIDIR's research and consultations have revealed that although arms control is seen as important, it is rarely integrated into UN prevention strategies or thinking. This is often due to a perception that arms control is "too technical" or "too sensitive". Moreover, political sensitivities complicate efforts to collect and utilize information on arms. Nevertheless, there is a need for policymakers and practitioners to increase their awareness on conventional arms risks and impacts, as well as the benefits for conflict prevention and early warning of applying an arms control lens for their work.
To try to overcome these challenges, UNIDIR's research on integrating conventional arms control into conflict prevention has led to the development of the Arms-Related Risk Analysis Toolkit: Practical Guidance for Integrating Conventional Arms-Related Risks into Conflict Analysis and Prevention. This Toolkit puts forth a framework for integrating arms-related data into conflict analyses. It proposes a step-by-step approach to strengthen shared efforts to prevent armed conflict – a key element of which is the analysis of context specific drivers of armed violence. By leveraging this Toolkit, analysts are guided in gathering and interpreting arms-related information to support the formulation of conflict prevention strategies – from early warning and preventive diplomacy to peace mediation, peacekeeping, and post-conflict peacebuilding measures.
UNIDIR's Toolkit offers a starting point for people who are unfamiliar with arms-related issues. Analysts engaged in a conflict analysis (whether before, during or after a conflict) may use UNIDIR's Toolkit to identify appropriate risks and understand how those risks might affect the context being examined.
For example, the availability of weapons could be a key indicator of conflict parties' capacity to initiate, continue, or resume armed conflict, which has been shown to be a strong predictor of the incidence of armed conflict. Measuring the number of weapons and ammunition acquired by armed actors over time, or identifying increases or decreases in imports over time, can complement a conflict analysis with information on the context and conflict dynamics. It goes without saying that arms-related risks should be examined in parallel to political, economic, and social factors and patterns of violence more broadly.
The Toolkit is organized in three tools that include 5 Risk Areas, 19 Risk Factors and 54 Risk Points. This allows analysts to choose from 134 pre-identified options, 371 indicators, and 200 information sources to assess conflict risks in relation to arms and ammunition
Optimizing existing approaches
To help establish synergies within the UN system, UNIDIR's Building the Bridge initiative promotes dialogue among peace and security, development, and humanitarian actors on ways to apply conventional arms control to reduce violence, prevent conflict, and advance sustainable development.
Paving the way for this initiative, UNIDIR brought together practitioners from the arms control and conflict prevention communities for a workshop that took place in December 2021 to critically examine how to apply the Arms-Related Risk Analysis Toolkit. Participants from UN Headquarters, field personnel, regional organizations, NGOs and States shared a range of experiences in conflict-affected and fragile settings during the virtual gathering. These exchanges identified several key opportunities to enhance conflict prevention policy and practice by using the Toolkit, in particular:
A holistic approach for examining the supply and demand side of arms-related risks. The Toolkit's indicators enable a holistic and coherent approach to addressing arms-related issues. On the demand-side, bridges should be built with the peacebuilding community to better understand the role of conventional arms in driving the escalation of armed violence or of conflict.

The importance of an integrated analysis to understand the root causes, risks, and multipliers for armed conflict. A comprehensive conflict analysis is an indispensable starting point for the design of conflict prevention, management, and resolution strategies. The Toolkit helps to systematically examine how arms-related risks relate to other conflict drivers. As such, the result of an integrated analysis contributes to the implementation of the UN's Sustaining Peace Agenda.

Enhancing early warning mechanisms to track and systematically analyze arms flows can help the UN to act before conflict breaks out – or resumes – and thereby prevent instability or a potential disruption to peace negotiations. Early warning systems could be bolstered by the indicators set forth in the Toolkit. More broadly, the role of conventional arms information as part of an early warning mechanism remains a key yet underexplored area for conflict prevention.
The cost of neglecting the arms dimension of armed conflict is simply too high. The Arms-Related Risk Analysis Toolkit is ultimately a starting point for more comprehensive conflict prevention efforts aiming to save lives, which can now be leveraged as a complementary tool within the UN's prevention toolbox. If we do not shift towards a culture of comprehensive conflict prevention, in which arms-related risks are integrated within preventative thinking, we will have no option but to react to the next outbreak of conflict – wherever, and whenever that may be.
---
Erica Mumford is an Associate Researcher with UNIDIR's Conventional Arms Programme, where she focuses on the Integrating Conventional Arms Control into Conflict Prevention and Management workstream. Prior to joining UNIDIR, she worked with the United Nations Department of Peace Operations in the Disarmament, Demobilization and Reintegration (DDR) Section in New York covering issues related to weapons and ammunition management in peacekeeping settings, as well as with the International Action Network on Small Arms.