The UNIDIR Youth Disarmament Orientation Course allows you to explore and understand the key concepts in disarmament and arms control and to get the latest insights into key topics in the area, including weapons of mass destruction, small arms and light weapons, security in outer space, artificial intelligence, and cybersecurity.
The course, which was made possible thanks to the generous support of the Republic of Korea, consists of six interactive, self-paced modules, a set of key additional resources, and a self-test.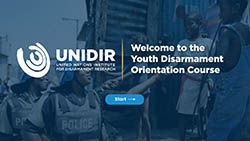 Introduction
This introductory module welcomes you to the course and provides an overview of the content and how to navigate around it.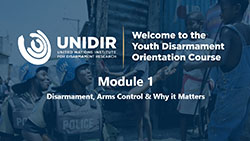 Module 1: Disarmament, Arms Control, and Why It Matters
This module provides general introduction to disarmament and arms control, as well as their relationship to youth and gender equality.
Hear from UNIDIR researchers about why disarmament and arms control matter in the 21st century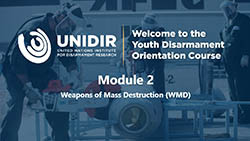 Module 2: Weapons of Mass Destruction
This module explores Weapons of Mass Destruction (WMD) and presents the key international treaties and bodies that regulate these weapons.
Hear from UNIDIR Graduate Professional Vivienne Zhang about why it's so important that we control weapons of mass destruction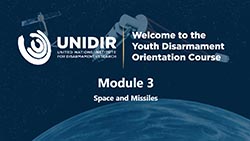 Module 3: Space and Missiles
Module three looks at space and missiles, examining how disarmament is closely linked with space security and the peaceful development of outer space.  
Hear from UNIDIR Graduate Professional Sarah Erickson about what disarmament means in outer space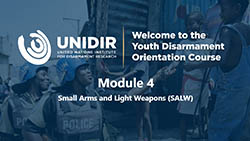 Module 4: Small Arms and Light Weapons
This modules covers efforts made by the international community to address the challenges associated with the widespread availability, illicit proliferation, and misuse of small arms and light weapons.
Hear from UNIDIR Associate Researcher Theò Bajon on how weapons and ammunition management helps control the spread and misuse of illicit weapons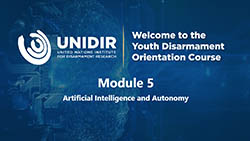 Module 5: Artificial Intelligence and Autonomy
Here, the course looks at the latest technological developments in terms of artificial intelligence and lethal autonomous weapons, as well as how they play a crucial role in contemporary disarmament affairs.

Hear from Digital Tools Coordinator Lenka Filipová about how artificial intelligence is changing the face of warfare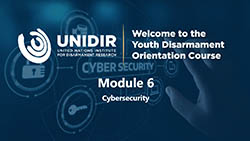 Module 6: Cybersecurity
This module provides an introduction to how cybersecurity relates to wider issues in international peace and security.

Hear from Digital Tools Coordinator Lenka Filipová about how cybersecurity affects international security
As well as the six modules, the course also comes with: