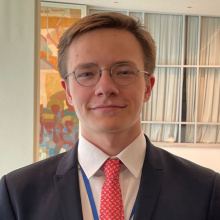 Graduate Professional (Conventional Arms and Ammunition)
lavrentii.zakharov@un.org
Lavrentii Zakharov
Lavrentii is a Graduate Professional at the Conventional Arms and Ammunition Programme.
Lavrentii holds a Master's degree in Conflict Studies from the London School of Economics and Political Science (LSE) and a Bachelor's degree in Politics, Sociology and Eastern European Studies from from University College London (UCL). He has previously worked as an intern at several UN agencies including UNOCC Research and Liaison Unit, UNMAS Policy Devision, and WFP Security Analysis Unit.
Lavrentii's main research interests are strengthening weapons and ammunition management (SWAM), and de-mining and humanitarian access. He speaks Russian and English.