The Director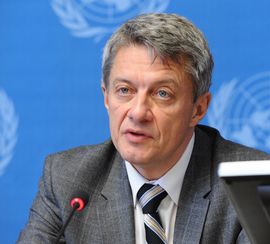 Mr Jarmo Sareva of Finland was appointed as Director of the United Nations Institute for Disarmament Research (UNIDIR) effective 1 January 2015.
Mr. Sareva brings to the Institute a wealth of experience from United Nations and disarmament affairs. Until the end of 2014 he serves as Deputy Secretary-General of the Conference on Disarmament and Director of the Conference on Disarmament Secretariat and Conference Support Branch (Geneva Branch) of the UN Office for Disarmament Affairs, which post he has held since September 2009.
From 2006 to 2009 Mr. Sareva served as Chief of the Disarmament and Peace Affairs Branch at the Department for General Assembly and Conference Management (DGACM) of the UN Secretariat in New York, and as Secretary of the First Committee (Disarmament and International Security) of the General Assembly. Prior to joining DGACM, Mr. Sareva was Ambassador and Deputy Permanent Representative of Finland to the UN in New York, during which time he served, inter alia, as Chairman of the First Committee. Mr. Sareva served as Special Assistant to the Executive Chairman of the United Nations Monitoring, Verification and Inspection Commission (UNMOVIC), a subsidiary organ of the UN Security Council, from 2001 to 2002.
From 2000 to 2001, Mr. Sareva was Chef de Cabinet of the Office of the President of the 55th session of the United Nations General Assembly (Millennium Assembly). During that time, he guided the work of the Cabinet during a record number of major conferences and special sessions of UNGA, including the UN Conference on the Illicit Trade in Small Arms and Light Weapons. The Presidency was widely appreciated for successfully integrating the various UN conferences during that year under the general theme of follow-up to the September 2000 Millennium Summit.
From 1998 to 2000, Mr. Sareva served as Minister Counsellor at the Permanent Mission of Finland to the United Nations in New York. He represented the European Union in the Fifth Committee during the Finnish Presidency of the EU (1999), acting as chief negotiator for the EU during the budget negotiations for the 2000-01 biennium.
Mr. Sareva's prior diplomatic experience includes two tours of duty at the Embassy of Finland in Moscow, including as Deputy Chief of Mission from 1996 to 1998. He has also served as Director of Disarmament, Arms Control and Non-proliferation at the Ministry for Foreign Affairs in Helsinki, as First Secretary at the Finnish Embassy in Washington, D.C. and as Counselor at the Finnish Mission to the CSCE (now OSCE) in Vienna.
Mr. Sareva holds an M.A. from the School of Advanced International Studies of the Johns Hopkins University in Washington, D.C., and an M.Sc. (Political science) from the University of Turku in Finland. From 1989 to 1990, he spent an academic year in postgraduate training on leave from MFA at the Graduate Institute of International Studies in Geneva.
* * *
Statement to the United Nations General Assembly First Committee Thematic Discussion on Disarmament Machinery, 27 October 2016, UN Headquarters, New York.